EMBARGO UNTIL March 28th, 2022 – 12AM SWISS TIME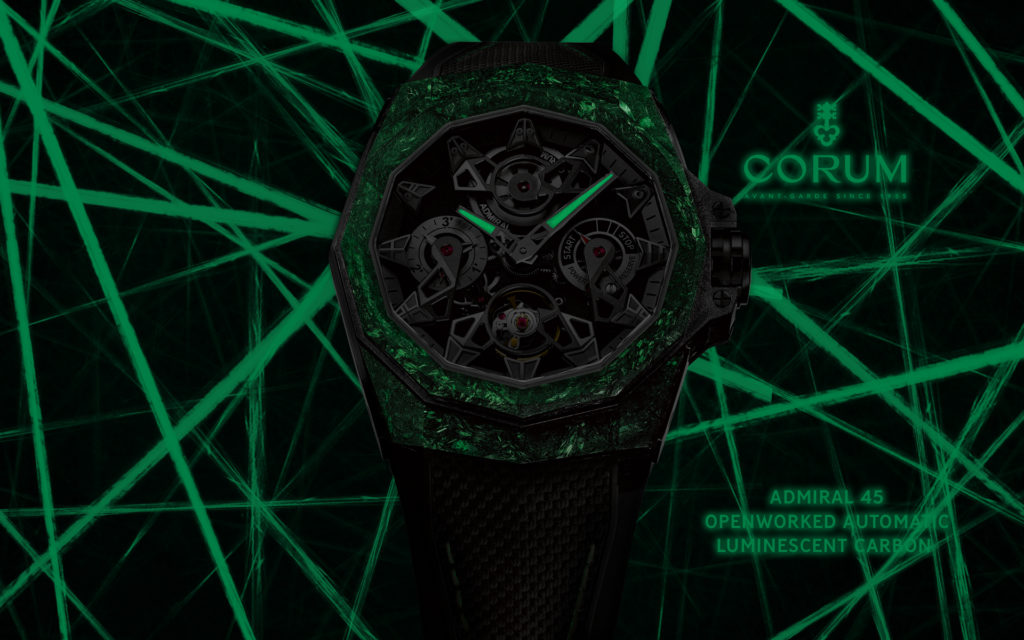 Thanks to a rich history and heritage in maritime and competitive sailing, Corum fuses the spirit of sport and glamour in its collections by transforming highly technical performance timepieces into avant-garde stylish masterpieces.
Launched more than 60 years ago, the Admiral product line is inspired by the great sailing races of that period in which Corum was a key actor. Iconic models of the Maison are highly recognized by their distinctive dodecagonal-shaped bezels and nautical pennants on the dials. Sporty yet elegant, Admiral watches embrace a lifestyle attitude, perfect for today's navigators and sailors, as well as for those who simply love the seas.
Today, Corum unveils a new Admiral timepiece with a striking black carbon aesthetic combined with green SuperLuminova.
The 45 mm timepiece is crafted from ultra-light black carbon providing utmost comfort on the wrist and a unique look. Carbon is a lightweight material made of fibers, giving each watch an unmistakable appearance. Inspired by the tides and their seasonal changing colors, the case reveals its hidden beauty at night thanks to luminescent green inclusions in the carbon that glow like thousands of firelights. To achieve this special aesthetic, the carbon fiber has first been positioned in various ways and combined with green SuperLuminova elements. Then, both materials are melted together at specific pressures and temperatures – a subtle mix of skill and expertise. This process allows the multiple carbon fibers to create various shapes and make every timepiece unique.
Thanks to the in-house openworked movement, the Admiral watch offers a deep view of the automatic mechanism from both sides and reveals the component's meticulous finishing. Often hidden, the barrel and its spring are partially unveiled. As a nod to the Admiral's aesthetic design codes, the bridges have been designed with the same geometric shape as the iconic dodecagonal bezel.
The automatic movement, CO 297, developed in-house by Corum's engineers, beats at a frequency of 4Hz, and has a power reserve of 48 hours. On the back of the case, the sapphire glass offers a beautiful view of the distinctive 360-degree rotor.
The Admiral watch displays hours and minutes in the center of the dial. At 3 o'clock, the power reserve is indicated, while at 9 o'clock, a 3-minute counter appears, paying tribute to the Corum's three founders (René Banwart, Gaston Ries, and Simone Ries).
Completing the overall design, the timepiece is equipped with a matching black rubber strap. It is water-resistant to 100 meters.
Additional information
Recommended Retail Price: CHF 35'000.-
Limited Edition of 25 pieces
About CORUM
Founded in 1955, Corum represents creative and daring watchmaking. Corum uses an approach free of dogmas that enables a reconceptualisation of movement construction, its casing, and the artistic crafts that brighten the dial. Behind the many technical achievements (baguette movement) and aesthetic achievements (Coin Watch, Feather, Bubble), Corum continues the tradition of high-quality watchmaking that is ahead of its time.
Corum, established in La Chaux-de-Fonds, is opening itself up to the contemporary, street art, and classical art worlds, and in doing so attracting the attention of various trendsetters. At once disruptive yet respectful of its watchmaking heritage, Corum maintains its status of a niche brand aimed at demanding collectors of unconventional timepieces. Corum is currently based on four collections that embody its vision of 21st-century watchmaking: Admiral, Bubble, Golden Bridge and Heritage.
DOWNLOAD
Find in this section HD pictures for print, WEB format pictures but also press release and technical sheet.