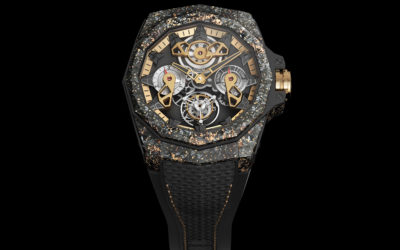 It was more than 60 years ago that Swiss watch brand Corum first announced its Admiral collection. Inspired by the great sailing races from whose name the collection derives, the Admiral watch has undergone a host of evolutions and iterations since then. Known for its...
read more
ADMIRAL
In 1960, the first interpretation of the Admiral model paved the way for CORUM's success. This model remains thanks to its history, which is inextricably bound up with major sailing competitions and prestigious sailors, as well as for its inimitable esthetic based on a twelve-sided case, a dial set off by twelve nautical pennants, and the Admiral's Cup trophy engraved on the caseback. Dressed with those distinctive features, the Admiral collection celebrated its half century of inception.
Also in 2011, the collection comes together for the first time, embodied by the Legend line that gave birth to a range of elegant timepieces.
2013 marks an important milestone in the history of the collection with the launch of the Admiral AC-One
This line comes with a new case shape revisiting the features of this iconic collection but preserving the codes which forged the legend as the bezel takes the traditional dodecagonal shape.
With the AC-One  45  Squelette,  Corum  symbolizes in 2014 the juxtaposition of the traditional and contemporary watchmaking and marks the latest step in the 54-year evolution of the Corum's signature timepiece.
To celebrate its 60th anniversary in 2015, Corum distinguishes itself by proposing the Admiral's Cup Legend 42 Flying Tourbillon – an outstanding timepiece that perpetuates the founding creation values.
In 2019, Corum presents the Admiral 45 Openworked Automatic and Openworked Tourbillon, two radical pieces that showcase both a nautical design and watchmaking mechanics with a sporty chic and energetic feel.