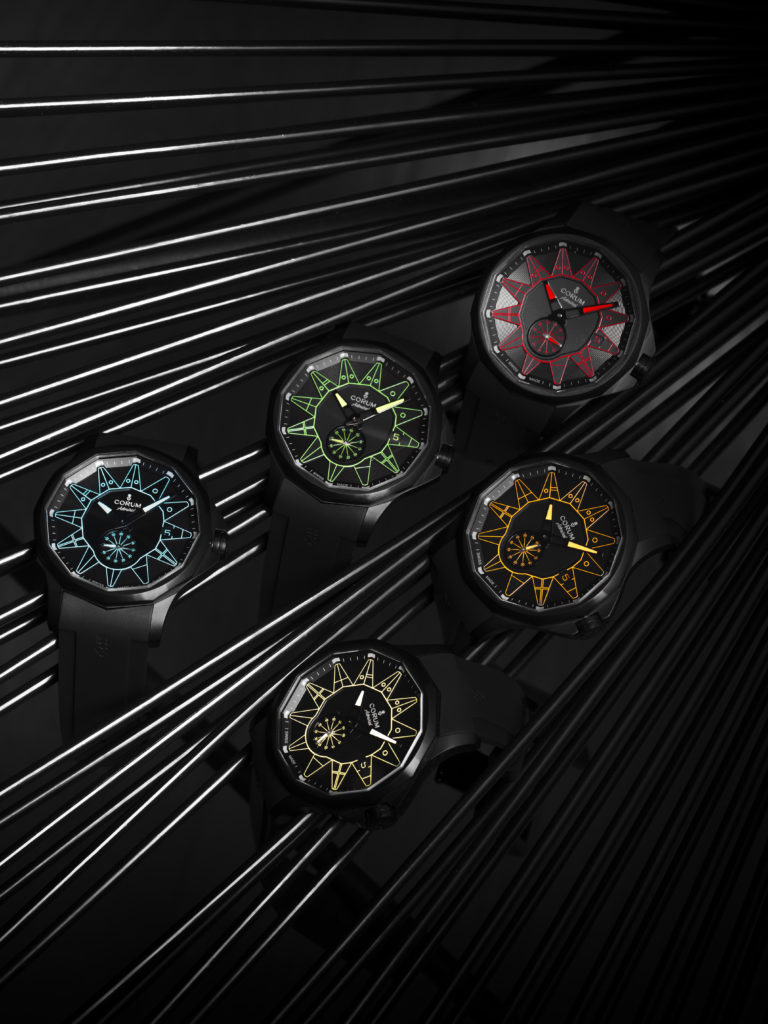 Corum colors the mysterious and edgy Admiral 42 Automatic Full Black timepiece.
Born in the 1960s, the very first Admiral's Cup model was an unusual yachting watch with a water-resistant square case. However, the Admiral collection that we are now familiar with, is actually an evolution of the Admiral's Cup model redesigned in 1983, with its instantly recognizable 12-sided case and nautical pennants on the dial. Over the years, this collection dedicated to the world-famous regatta has not only become an integral pillar of Corum, but also one of the most iconic nautical-inspired timepieces on the market.
One of the most identifiable characteristics of an Admiral timepiece is the use of 12 nautical pennants as hour markers. These flags in fact conform to the International Code of Signals for indicating numbers using colored flags, so each hour is represented by its corresponding pennant.
The latest Admiral 42 Automatic Full Black is the complete opposite of its colorful predecessors, and a first-ever within the Admiral family of watches. It features the iconic dodecagonal case in black PVD-treated stainless steel, paired with a blackened brass dial. The nautical pennants, minute markers presented in greyscale tones to balance the austerity of the all-black design, while markers for the minute and small seconds are made visible using a tone-on-tone effect. For this spring season, Corum introduces colorful and flashy hour's markers flags, in blue, red, yellow, green and orange.
According to Corum's product development department, "The main objective is to go against the classic codes of watchmaking by proposing a trendy watch instead of a traditional case in steel or gold. In addition, Corum wanted to break the codes of its Admiral collection representing classic navigation. The nautical flags of this new Admiral 42 Automatic are colored in different flashy tints."
The Dauphine-style hour and minute hands are also skeletonized, given black PVD treatment, then filled with colored superluminova to ensure excellent legibility. Vulcanized black rubber straps with a black PVD-treated buckle complete the edgy look.
The original version, in "full black" of this Admiral 42 automatic, was created to bring this dark knight of a watch as mysterious, sporty yet intriguingly handsome at the same time.
The Admiral 42 Automatic Full Black is powered by the automatic CO 395 movement, which provides 42 hours power reserve. It offers a water resistance of 50 meters. All variations produced in a limited edition of 100 pieces.
IMAGE GALLERY
DOWNLOAD